The United States faces a season of hate as Capitol Police Officer William Evans was killed Friday as a motorist rammed a barricade with his car. There have been more than 20 attacks with some fatalities in the past two weeks according to a CNN report.
Slain officer Evans was an 18-year veteran of the Washington department, officials said. He was one of two officers struck when the blue Nissan Sentra driven by the suspect identified as Noah Green, collided with a barricade on the U.S. Senate side of the Capitol building.
But the second officer is in stable condition and expected to survive, Capitol Police said on Twitter.
The suspect is reportedly a 25-year-old black nationalist originally from Indiana. He was killed after he jumped out of his car brandishing a knife at the officers, according to Capitol Police.
However, sources said Green identified himself on his social media pages as a "Follower of Farrakhan." On his Facebook page, which was deleted after the incident, Green professed himself to be a devout follower of Nation of Islam leader Louis Farrakhan, an alleged anti-Semitist.
The Nation of Islam has been labeled an extremist hate group by the Southern Poverty Law Center and numerous other watchdog groups, according to NBC News.
Acting U.S. Capitol Police Chief Yogananda Pittman said in a statement about slain officer Evans that "he began his USCP service on March 7, 2003, and was a member of the Capitol Division's First Responder's Unit".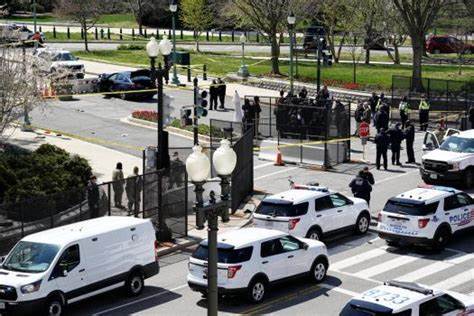 According to Pittman, the incident occurred at about 1:02 p.m. on April 2. "Our officers then engaged that suspect. He did not respond to verbal commands. The suspect did start lunging toward U.S. Capitol Police officers, at which time, U.S. Capitol Police officers fired upon the suspect. At this time, the suspect has been pronounced deceased."
"Two U.S. Capitol Police officers were transported to two different hospitals, and it is with a very, very heavy heart that I announce one of our officers has succumbed to his injuries," Chief Pittman announced.
Pittman said, "I just ask that the public continue to keep U.S. Capitol police and their families in your prayers. This has been an extremely difficult time for U.S. Capitol police after the events of Jan. 6, and now the events that have occurred here today."
The wounded officer who hasn't been identified remained in the hospital "fighting for his life," according to President Joe Biden.
Biden ordered flags be flown at half-staff on all federal buildings until April 6 in honor of Evans and the other injured officer.
"We send our heartfelt condolences to Officer Evans' family, and everyone grieving his loss. We know what a difficult time this has been for the Capitol, everyone who works there, and those who protect it,".

President Biden said.
But DC Metropolitan Police Department (MPD) is investigating both the attack on the officers and the officer-involved shooting, according to an NBC News report.
MPD Acting Chief Robert Contee initially said the incident "does not appear to be terrorism related."
United States Congress is in spring recess this week so there were no lawmakers at the Capitol when the suspect attempted to breach the barrier, NBC News reported.
According to law-enforcement sources, the suspect recently lived in Virginia. In postings on social media, he let his friends and family know that the past few years have been "tough" and the past few months "tougher."
"I am currently now unemployed after I left my job partly due to afflictions, but ultimately, in search of a spiritual journey," he wrote on his now-deleted Facebook page.
The postings do not indicate why Green, who is Black, would target the Capitol. He posted about the "end times" in one post, and in another on March 17, warned about the "last days of our world as we know it."
Meanwhile, House Speaker Nancy Pelosi ordered flags at the Capitol be flown at half-staff in honor of the fallen officer, who she called "a martyr for our democracy."
"May it be a comfort to the family of Officer Evans that so many mourn with them and pray for them at this sad time," Pelosi said.