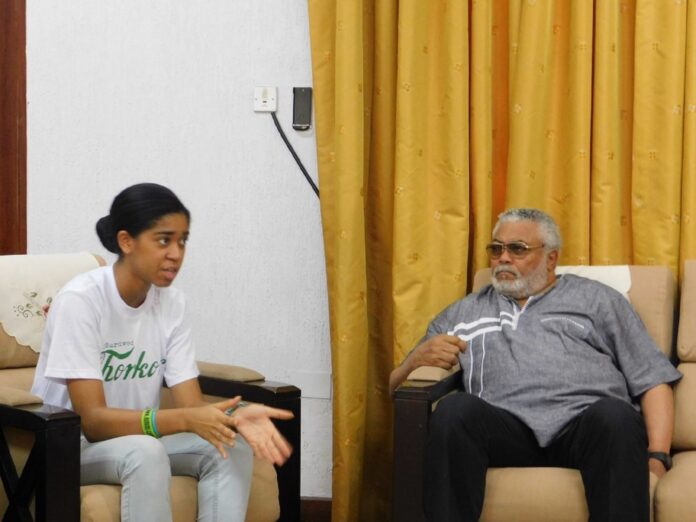 American teenage filmmaker and activist, Zuriel Elise Oduwole, pays tribute to African revolutionary leader and former Ghanian President, J J Rawlings, who died on the 12th of November 2020.
Following his death, Zuriel made a short documentary on her encounter with the late revolutionary leader. The 43 seconds film shows her first meeting with the revolutionary leader at age 9 up till when she became a teenager.
Zuriel, who fondly refers to Rawlings as "Grandpa," posted on her Twitter page;
"Sad day. My very good friend & grandpa @officeofJJR passed on today. He was the first president I met when I was 9 in Ghana. Always made time 4 me. Always had leadership advice 4 me. Praying for his family @zanetorofficial. Condolences 2 all my Chokor friends too @joselyn_dumas ".
She further expresses her fondness for the late ex-President on her Twitter account.
"Tribute to my friend, my teacher, my cheerleader- President Jerry John JJ Rawlings. He believed in me from age 9, believes in the youth, and the African Renaissance @Joselyn_Dumas @Sarkodie @Yvonnenelsongh. Kindness is still the rent we pay for our time here on earth. Be KIND".
Speaking about his demise and her short film on Arise News interview, she said that she met with President Rawlings for the first time when she was 9. Zuriel told the interviewer that a school project prompted her visit to Ghana to meet with one of the most selfless African leaders.
According to her, President Rawlings made her feel at ease when she was very nervous the first time they met. She further said that he was very patient and encouraged her to ask any questions as he was willing to answer them as best as he could.
Miss Oduwole was born in Los Angeles, California in 2002 to a Nigerian father and a Mauritian mother. Oduwole, in November 2014, at age 12, became the world's youngest filmmaker to have a self-produced and self-edited work after her film showed in two movie chains and then went on to screen in Ghana, England, South Africa, and Japan.
She became the youngest individual to be profiled by Forbes. She is one of the youngest people spreading the importance of education of the girl child and has dedicated herself to the cause.
Late President JJ Rawlings is believed to be a revolutionary leader, who gave Ghanian politics a facelift by allegedly assassinating corrupt leaders and took over the leadership of the country.
A lot of people loved him for what he did while a few others thought otherwise.
His burial arrangement is yet to be announced. But the President of Ghana did promise a national burial as a tribute to the late former president.
Zuriel is a teenager who has done well for herself and is doing her generation proud.