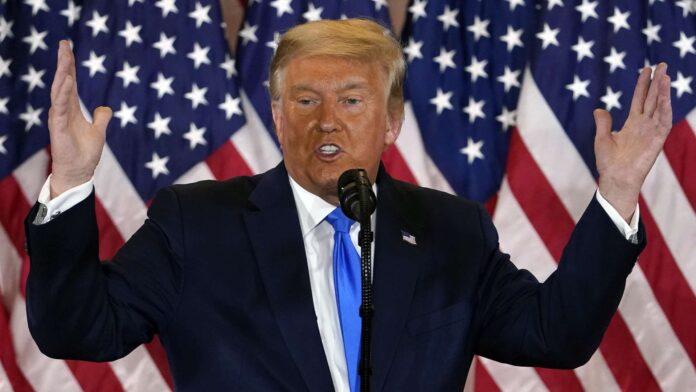 Should President Joe Biden's administration urge former president Donald Trump to convince supporters to get vaccinated?
Vaccines are proven to reduce deaths and help end pandemics, but many Americans are hesitant to take the shot. Surveys show that some people don't want to get the vaccine because they fear side effects or other medical problems.
This is generating concerns among American political and media elites, who call on Trump to intervene.
While the country reportedly administers about 2.4 million vaccine doses per day, a CBS poll shows that a 3rd of Republicans say they will not get vaccinated.
Meanwhile, a number of leading social media platforms, including Facebook and Twitter had in January banned President Trump for allegedly "inciting violence" after a crowd of angry Americans stormed the US Capitol building.
The de-platforming of the former president seemed to have negatively impacted his ability to motivate his base.
But Trump, whose administration mobilized the development of the vaccines and early distribution, had expressed support for vaccinations in his speech on Feb. 28 at the Conservative Political Action Conference. "So, everybody, go get your shot," he told the crowd of supporters.

---
But Dr. Anthony Fauci, a top medical expert for both Trump and Biden still urged the former president to ask supporters to get vaccinated, saying it would make a huge difference.
"He's such a strongly popular person. I cannot imagine that if he comes out that they would not get vaccinated," Fauci said on "Fox News Sunday." "It would be very helpful to the effort for that to happen."
Shortly afterwards, Trump told Fox News he would urge his supporters to get the COVID-19 vaccine, but he respects their freedom to make a choice.
"I would recommend it, and I would recommend it to a lot of people that don't want to get it," Trump told Fox News in a 20-minute telephone interview Tuesday.
Trump noted "a lot of those people voted for me, frankly. But … again, we have our freedoms, and we have to live by that, and I agree with that also."
But Trump told Fox News' Maria Bartiromo, "It's a great vaccine, it's a safe vaccine, and it's something that works."
Biden's administration severally refused to publicly acknowledge Trump's role in the vaccine miracle. They have falsely claimed at multiple forums that they started from scratch after the inauguration.
Series of controversial polls have surfaced lately each buttressing specific talking points. At a time, polls showed that vaccine hesitancy was higher among blacks and Latinos. Other polls show Republican men and Trump supporters are among the top groups who resist the vaccine.
Meanwhile, Trump and his wife were excluded from participation in a public service ad of former presidents, asking Americans to take the shots.
The Ad Council, which was behind the ads, claimed that the ads were filmed at the inauguration of Biden in January, which Trump did not attend. But former president Jimmy Carter did not also attend the inauguration and he was filmed by the Ad Council.
However, President Biden has said that he wouldn't wait on help from Trump in getting people vaccinated.
"I discussed it with my team and they say the thing that has more impact than anything Trump would say to the MAGA folks is what the local doctor, what the local preacher, what the local people in the community say," Biden said on Monday.
Former President Trump called on his supporters to get their COVID-19 vaccines during his address to the Conservative Political Action Conference (CPAC) on Sunday, while taking credit for the pace of the U.S.'s vaccine rollout.
Kamala Harris role in vaccine hesitancy
Vice President Kamala Harris said during the vice presidential debate with former Vice President Mike Pence in October 2020 that she does not trust the then administration's push to rush a coronavirus vaccine into production.
Harris undermined the safety of the vaccine during the live debate in Salt Lake City, when she was asked if Americans should take a vaccine, if the Trump administration were to approve one either before or after the election.
"If the public health professionals, if Dr. Fauci, if the doctors tell us that we should take it, I'll be the first in line to take it. Absolutely. But if Donald Trump tells us that we should take it. I'm not taking it."

Kamala Harris
Mike Pence responded then, "We're going to have a vaccine in record time — in unheard-of time — in less than a year.
"We have five companies in Phase 3 clinical trials. And we're right now producing tens of millions of doses. So the fact that you continue to undermine public confidence in a vaccine, if the vaccine emerges during the Trump administration, I think is unconscionable. And senator, I just ask you: Stop playing politics with people's lives."
Although the Centers for Disease Control projected that a vaccine is not likely to be broadly available to the public until the middle of 2021, the vaccines suddenly became ready in the hope they will be administered by President Biden's administration.