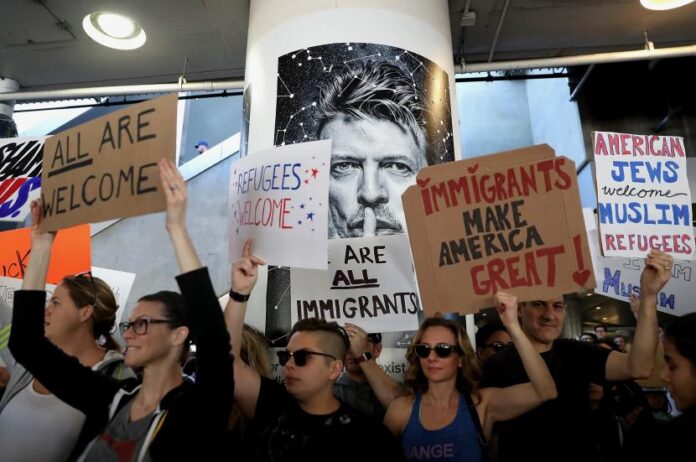 By Sharon Samber and Max J. Rosenthal, HIAS.org
For more than three years, the Trump administration has attempted to enact bans prohibiting Muslims, refugees, asylum seekers, and other populations from entering the country. Now Congress has taken a major step toward ending this type of discrimination.
In a 233-183 vote Wednesday, the House of Representatives passed the NO BAN Act, which attempts to redress the wrongs that groups targeted by the Trump administration have experienced. The bill would repeal all versions of the bans authorized through executive orders and amend the Immigration and Nationality Act, or INA, to prohibit discrimination based on religion.
"Today, Congress rejected President Trump's Muslim ban and sent a strong message that if the President won't remove this moral stain from our country, Congress will," said Sen. Chris Coons, a Delaware Democrat and co-sponsor of the Senate version of the bill, after the House voted.
One of President Trump's first actions after taking office was issuing the initial version of the ban. That version, which he signed on Jan. 27, 2017 — International Holocaust Remembrance Day — blocked individuals from seven predominantly Muslim countries from entering the United States. Protests against the ban began almost immediately, with HIAS joining the hundreds of thousands of people who demonstrated at airports and rallies in support of refugees.
There have been five bans in total, all relying on broad provisions of the INA that were abused to discriminate on the basis of religion, nationality, and, in some cases, against those simply seeking safety from war. Significant portions of the ban have been blocked by federal courts, some finding the bans to be discriminatory, anti-Muslim, unconstitutional, or an abuse of the president's power.
The latest version of the NO BAN Act does contain language permitting certain groups to be barred entry to the U.S. in order to contain "communicable diseases." This language, added at the onset of the COVID-19 pandemic, is unnecessary and stigmatizes immigrants. Despite this language, however, the NO BAN Act will not only rescind the president's bans but also limit future presidents from implementing similar bans by calling for greater scrutiny and congressional oversight. For those reasons, it has HIAS' support
While passage in the House is a major victory for the NO BAN Act, its fate is uncertain in the Republican-controlled Senate. We urge the Senate, where an identical bill has 40 co-sponsors, to pass this vital legislation and uphold our country's legacy as a place of refuge for all
Originally published by HIAS