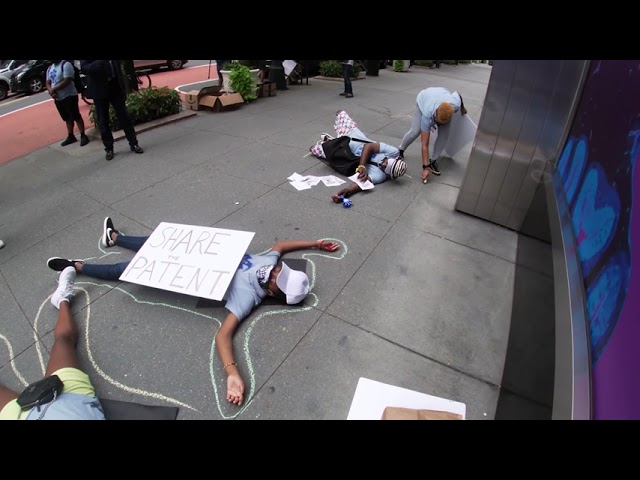 Pfizer made a killing with the sale of the Coronavirus vaccine. While U.S. taxpayers funded the company's $8.3 billion in vaccine research, now Pfizer is making America pay twice and at exorbitant price.  
Therefore, over 100 advocates from AIDS Healthcare Foundation (AHF) and its partner organizations carried out a die-in at the Pfizer HQ in New York City on Tuesday.
To drive the message home, at one point advocates suddenly dropped to the ground to represent those who have died without access to vaccines and their bodies were outlined with chalk on the pavement as a remind to Pfizer of the consequences their greed has on the world.
They demanded an end to pharma giant's pandemic profiteering as part of a global "Vaccinate Our World" (VOW) campaign.
Spurred on by the sound of whistles and chants blasting through megaphones, the crowd marched up and down the street directly in front of the main entrance to Pfizer headquarters. They wielded signs with such messages as "Pharma Greed Kills" and "Human Lives Over Profit."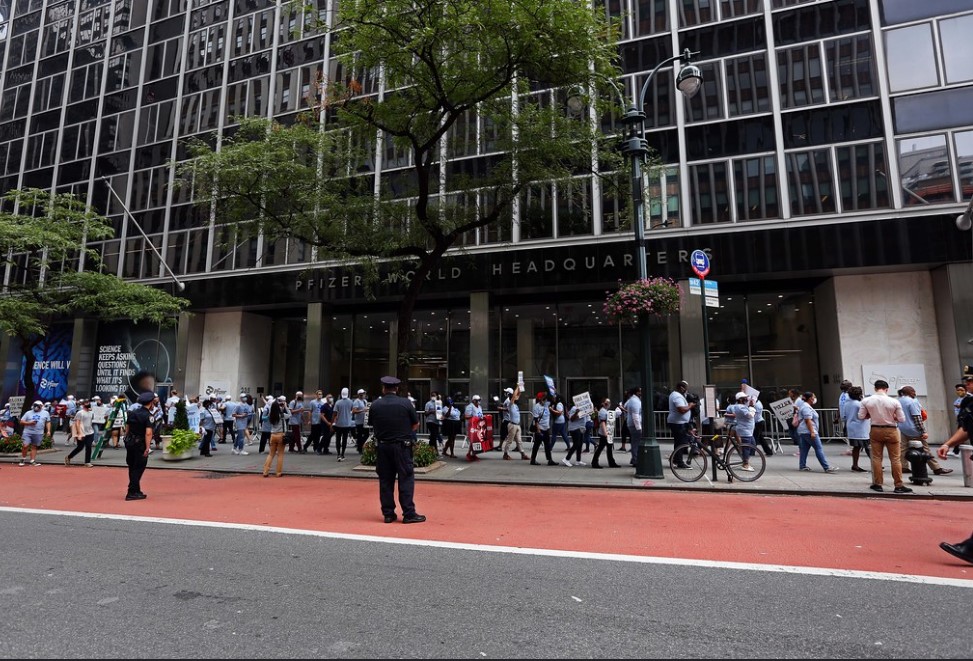 The group said by charging countries as much as $25 per dose for its COVID-19 vaccine, Pfizer is set to rake in a record $33 billion in sales this year.
Meanwhile, AstraZeneca charges less than $5.25 per dose and sells the vaccine at cost.
"We are calling on @Pfizer and its CEO @AlbertBourla to #FreetheVaccine! U.S. taxpayers funded $8.3 billion in vaccine research, now @Pfizer is making us pay twice. Pfizer Greed Kills! Share the wealth! Share the patents!"
Pfizer is in a hurry to squeeze as much profit as possible from people's suffering while their vaccine is still a hot commodity.
At the same time, upwards of 70% of all people around the world still haven't been vaccinated, and in low-income countries the figure stands at a meager 1.1%. Over 4.38 million people have died of COVID-19 so far.
Advocates have pledged to keep up the pressure on Pfizer until It lowers its vaccine prices and shares its patents and technologies with other countries so that vaccine production can be ramped up around the world.
Next stop for the VOW campaign is a protest at Moderna, which also charges exorbitantly high prices for its vaccine.
On the same day, in solidarity with the protest in New York, activists in other parts of the world held virtual and in-person rallies, including in Argentina, Panama, Amsterdam, India and Nepal.