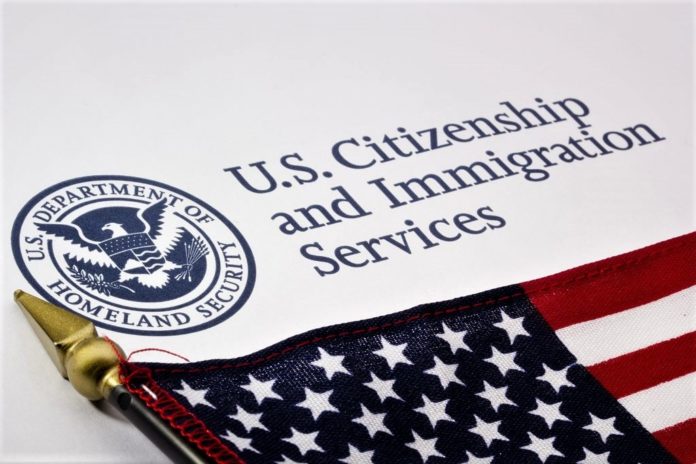 Application fees for services rendered by U.S. Citizenship and Immigration Services, USCIS may soon increase further. This is because the agency is broke and now begs Congress for $1.2 billion in funds over two years else it furloughs employees.
USCIS administers and grants work permits, green cards, asylum requests and other immigration benefits for non-citizens. It relies mostly on application fees to finance day-to-day operations.
Agency official says applications will continue to drop by about 61% through September. By the end of the summer, the agency is expected to run out of funding, according to officials. USCIS said it has already limited spending to salary and "mission-critical" operations.
Joseph Edlow, the agency's deputy director for policy said in a message to staffers Tuesday that a portion of its employees could be furloughed starting on July 20.
Edlow said he has been talking to lawmakers about the agency's "dramatic decrease" in revenue during the coronavirus pandemic. He hopes members of Congress "will respond to our request favorably as soon as possible to ensure uninterrupted agency operations."
Why USCIS IS BROKE
Two main factors are responsible for the agency's financial woes. The restrictions elicited by the Covid-19 pandemic and Trump administration's immigration restrictions.
The agency closed its offices to the public during the pandemic, thereby suspending most of its fee-yielding activities. These include biometric gathering, in-person interviews and most naturalization ceremonies for those seeking to become U.S. citizens.
The Trump administration has in recent years implemented several measures that have limited the avenues for foreigners to obtain immigration benefits like permanent residency and asylum.
In 2018, the Supreme Court upheld the third version of a travel ban after previous bans ricocheted through the courts. The ban restricted entry from seven countries to varying degrees: Iran, Libya, Somalia, Syria and Yemen, along with Venezuela and North Korea. Chad was removed from the list, after the White House said the country improved security measures.
President Trump added six countries to his list of nations facing stringent travel restrictions. These are Nigeria, Myanmar, Eritrea, Sudan, Tanzania, and Kyrgyzstan. The total number of countries now on the restricted travel list stands at 13.
The Supreme Court on in January allowed the Trump administration to enforce its "public charge" restriction. It is a sweeping rule that would deny permanent residency or entry into the United States to certain immigrants considered likely to use government assistance.
USCIS has been enforcing the rule since February; this gives caseworkers more power to deny green cards and visas to immigrants or would-be immigrants.
All these policies limit USCIS fee and surcharge collection capacity.
Could there be some hesitation in Congress, particularly among Democrats, to authorize the emergency funding given the administration's immigration agenda?
Implications for Immigrants
Earlier this month, USCIS asked Congress for $1.2 billion in funds over two years, and pledged to repay the funds to the U.S. Treasury Department. The proposal submitted to Congress would require the agency to add a 10% surcharge on immigration petitions.
This will mean a 10% increase in fees charged for various immigration benefits. Increasing already high US immigration fees could just be another reason to jump on the process now before implementation.