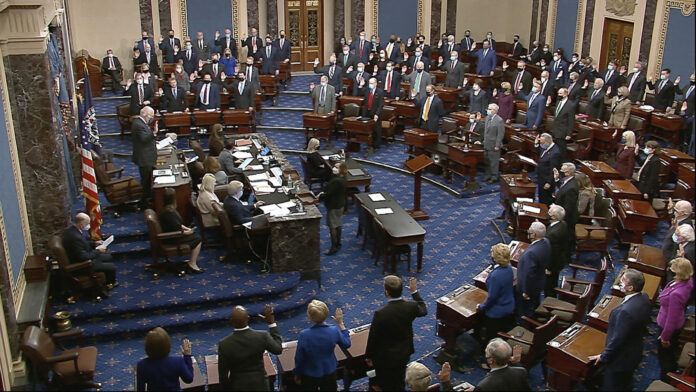 The US Senate voted Tuesday, that the impeachment trial of former president Donald Trump is constitutional. The vote was 56-44, to move ahead with one of the most divisive political impeachment trials in US history.
Trump's legal team tried to dismiss proceedings on the basis that the trial is unconstitutional because he's no longer in office. Therefore, he can't face removal, which is the standard judgment of an impeachment conviction.
"President Trump is no longer in office. The object of the Constitution has been achieved. He has been removed by the voters," Bruce Castor, a Trump attorney, said.
Castor believes that Trump is a target of politically motivated attacks. Many Americans share this sentiment too. Another Trump lawyer David Schoen said "Presidents are impeachable because they are removable. Former presidents are not because they cannot be removed," Schoen said.
Moves to impeach Trump started shortly after his inauguration and footage of when Democrats threatened to impeach Trump for several months was shown.
But House impeachment managers showed footage of the Capitol riot, which invoked emotions in the Senate chambers and probably swayed votes.
They made the case that not only is that there is precedent for proceeding with impeachment for a federal official who is out of office, but it's the right thing to do to hold presidents accountable.
The House prosecutors said the Constitution applies to every day a president is in office, and Trump's conduct as president cannot be ignored even if he's since left office.
Rep. Jamie Raskin, the lead House impeachment manager, gave an emotional speech, saying he buried his late son the day before the Jan. 6 breach of the U.S. Capitol.
Raskin's son, Tommy, who was 25, died by suicide on Dec. 31 and was buried on Jan. 5.
Senator Cassidy swayed
Six Republicans joined with the Democrats on voting to continue the trial. They are Susan Collins of Maine, Lisa Murkowski of Alaska, Mitt Romney of Utah, Ben Sasse of Nebraska, Pat Toomey of Pennsylvania, and Bill Cassidy of Louisiana.
Cassidy changed his vote from January when he was among the 45 Republicans who supported a motion by Sen. Rand Paul, R-Ky., that declared the trial unconstitutional.
"If anyone disagrees with my vote and would like an explanation, I ask them to listen to the arguments presented by the House Managers and former President Trump's lawyers," Cassidy said in a statement. "The House managers had much stronger constitutional arguments. The president's team did not."

Cassidy
Cassidy said he was persuaded by the House impeachment managers' arguments on Tuesday.
Democrats have severally used emotional appeal to mobilize support to convict Trump since last week. Some of them in Congress have organized separate emotion-laden events, revealing painful personal past experiences, including sexual assault.
But many allege that the Democrats are doing this for political theater. There is also the accusation that the Democrats wanted to make sure that Trump cannot be their political opponent in future elections.
This is because the 2020 election proved how formidable Trump's support base has become after he polled the largest votes of a sitting president in US history.
The Senate trial adjourned until noon Wednesday.
The Democrats will have up to 16 hours spread over the next two days to make their case in the Senate to try to convict the former President.